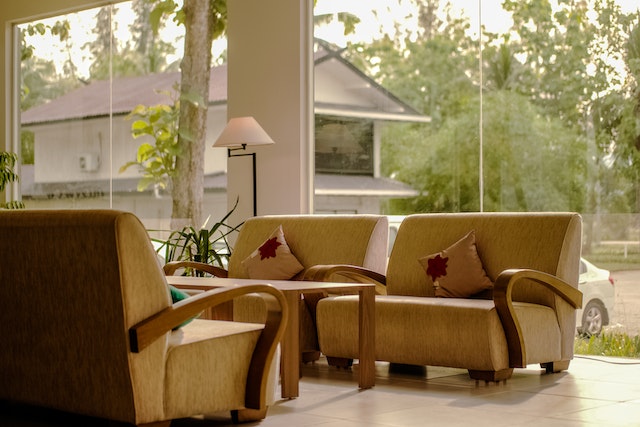 There are endless design possibilities when you start thinking of your waiting room as an extension of your brand. Your waiting room is your client's first and last impression, so make sure it reflects well on your business. Below are seven ways to revamp a waiting room for any business.
Add Comfortable Seating
Many waiting rooms have uncomfortable or dated furniture. They often have hard plastic chairs that are not meant for extended periods of sitting. This leaves your clients feeling uncomfortable and anxious. Invest in comfortable seating that will make your clients feel at ease. You can find a variety of chairs, sofas, and loveseats that will fit any budget and style.
The best waiting room furniture will have a mix of seating options. This way, your clients can choose what is most comfortable for them. You can also add a few coffee or end tables for people to set their belongings on.
Make the Room Lively
A waiting room doesn't have to be boring. You can add some life to the room with a few simple changes. Adding a TV is a great way to entertain your clients. You can work with different television providers to get a package that fits your budget. The TV doesn't have to be on all the time, but you can create a loop of commercials or shows your clients will enjoy.
You can also create a playlist to play in the background. This can be soothing for your clients and help them relax. Make sure to choose music that is appropriate for your business. You don't want to play music that is too loud or offensive.
Choose Relaxing Colors
The colors in your waiting room can also impact how your clients feel. When choosing paint colors, furniture, and decor, go for relaxing and neutral tones. Avoid using bright colors that can be overwhelming or jarring. You want your clients to feel calm and relaxed in your waiting room.
For instance, you could use light blue or green tones. These colors are calming and can help your clients feel more relaxed. Or, you could use neutral colors like beige or grey. These colors are easy on the eyes and won't create a jarring contrast when people walk in.
Include a Few Plants
Plants add some life to your waiting room. They can help purify the air and make the space feel more inviting. Choose a few low-maintenance plants that are easy to care for. Some good options include succulents, snake plants, or pothos plants.
Place the plants around the room, so they are evenly distributed. You can put them on tables, shelves, or the floor. Just make sure they are not in the way of people walking around.
Hang Artwork on the Walls
Your waiting room walls are a blank canvas for making your own. Hang artwork that reflects your brand or style. You could also use this space to display your company's mission statement or values.
You can DIY your own if you don't want to spend money on artwork. There are various ways to make your art, such as using old maps or scrapbook paper. You can also frame business photos or nature scenes.
Add a Few Games or Toys
If you have young clients, adding a few games or toys to your waiting room is a good idea. In addition, if you service customers who have kids, adding toys will keep them busy and entertained while waiting for their parent(s). It's also an excellent way to make your waiting room feel more inviting.
There are a variety of games and toys you can choose from. Some good options include coloring books, puzzles, or brainteasers. You can also get creative and make your games. For instance, you could have a scavenger hunt for kids to do while they wait.
Invest in Good Lighting
The lighting in your waiting room can also impact how your clients feel. If the room is too dark, it can feel depressing. If the room is too bright, it can be overwhelming.
Good lighting will make your waiting room feel more inviting and welcoming. It will also help your clients feel more relaxed. Choose a mix of overhead lighting and lamps to light the room evenly. You can also use natural light by opening up the curtains or blinds.
Conclusion
These are a few simple tips to revamp your waiting room. You can transform your waiting room into a space your clients will love by making a few simple changes. When clients enjoy the space you create just for them, it'll make them want to be around more!