When we hear the term 'online education', we sense that it's something reserved for the elite and the upper-middle class. However, the onset of COVID-19 has shaken this popular discourse. The path to online learning was never easy. With education being redefined during the pandemic, the lower-income families felt the heat at its extreme. This scenario isn't confined to underdeveloped and developing nations but also extends to first world countries. Yes, it may seem surprising, but unfortunately, it's a harsh reality.
Gone are the days when the internet was considered a privilege rather than a necessity, while there are some who think proper education can't be attained in online classes. But, what's the other option? We don't know.
How does remote learning affect children's education?
The curse of COVID-19 has forced every school, college, and university to shut down its operations. According to research, with the closure of schools in the US, about 55.1 million students were affected. Educators are still figuring out the long-term effects of the shift to online instruction. Researchers are of the opinion that there is a possibility of a "COVID-19 slide," which is similar to the "summer slide" but on a far greater scale. According to Pew Research Center's survey of parents of students in grades K-12:
An overwhelming 65 per cent of parents worry that school closures and online learning would cause their children to lag behind academically.
60% of parents are concerned about their children's ability to establish social ties in the modern world.
Parents are concerned that their children are spending too much time in front of a computer screen.
59% of parents are worried about their children's mental health.
Individual learning styles, learning environments, and parental engagement all play a role in how well a student performs in online education. The following are some of the most common reasons why students have had difficulty adjusting to life outside of the classroom:
Digital unevenness
High-speed Internet and one-to-one devices for online learning are lacking in many of the students who have had the most difficulty completing assignments. These technologies are required for successful online learning, yet millions of students do not have them.
Lack of proper structure
For a lot of students, it's easier to concentrate when they have a regular schedule. These pupils may have a harder time staying focused when they get home from school. This can have a detrimental impact on online education assignment help if they don't complete homework or attend class. In today's world, many parents have to work while their children learn online. It's not always easy for these families to provide their children with the same kind of structure they receive at school.
Declining engagement
The lack of face-to-face interaction between students and teachers can be a problem for many online students. A teacher may not be able to differentiate between students who are on task and those who require extra help in the classroom. An unproductive class meeting might be caused by distracted students who do not participate in online discussions.
Does online education have any benefits?
There is no proper answer to this question. But yes, there are certain benefits to online education that are undeniable in absolute terms:
Flexible schedules: On-campus education schedules might have a negative impact on students' grades and retention. Remote learning may be ideal for these students, as it gives them more freedom.
Fewer distractions: It may be simpler for students who are easily distracted or worried about focusing on academics while they are at home. Students who are socially awkward may have difficulty participating in class, but they are more likely to do so online.
More self-paced instruction: Breaking down work into manageable portions and taking a break when necessary are some of the advantages that are not always available in an on-campus classroom. Students find it easier to work at their own speed when learning online.
More sleep: Besides health benefits, proper sleep also enhances your learning outcomes. One positive impact of online classes is that students are better rested that sharpens their creative and analytical thinking abilities.
Sharpened self-regulation skills: Tracking the schedules, remembering when meetings occur, scheduling time each day to work on projects, and keeping track of due dates have helped students become more self-sufficient.
Is online education curbing the social development of students?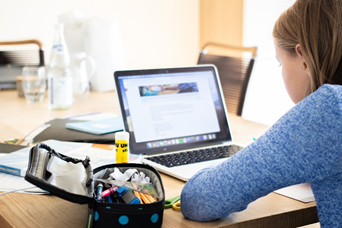 The answer is 'YES.' Rather, it's a main problem with online education. Though some may think of these to be negligible concerns, it's not the real deal. Giving a blind eye to these aspects will lead to far-reaching consequences. So, let's explore the adverse impact:
Isolated: Families are concerned about their children's social isolation while taking online classes. Children may spend many hours a day in front of a computer for school without any human interaction despite parents' efforts to limit their time in front of the screen. The lack of one-on-one connection might have a negative impact on the development of social skills among younger children.
Disengaged: Parents are discovering that many of their children are skipping school or playing video games instead of doing homework. Interacting with classmates was a favourite pastime for many pupils. Those pupils may find it difficult to stay motivated if they don't have a peer group to lean on. Students may also have a hard time understanding and conveying their emotions in internet videos.
Lack of motivation: Relationships with peers can help motivate students. Group projects and presentations, as well as class debates, are a great way for students to stay motivated. When they are forced to work alone, they lose that drive.
Emotional concerns
It's a big question that is lurking in the minds of most parents. With the uncertainty and disruption caused by the pandemic coupled with the paradigm shift to virtual learning, the detrimental emotional impact on children can be very much felt considering the rising number of suicides and school dropouts. The most glaring emotional concerns are listed below:
Pandemic concerns: Children may be concerned about contracting COVID-19 themselves or their loved ones. They may have lost a family member to the virus, or their loved ones may be infected.
Depression: Depression can develop in children who are isolated from their peers while enrolled in online classes. Some students who gain a lot of self-assurance from school may find it difficult to adjust to life without the one-on-one attention they usually receive from their instructors.
Financial worries: Many parents have lost their stable source of earning, which is also taking a toll on the mental health of children.
What's the impact of virtual schooling on family dynamics?
Early on in the COVID-19 pandemic, parents quickly converted rooms in their houses into classrooms and offices. When taking online lessons, one child may use a desk in their room while another works at a table in the dining area. It's possible that a parent or parents are also working from other rooms in their home. Parental responsibilities have expanded to include acting as distant learning leaders and virtual learning teachers in addition to rearranging their living quarters. The positive sides include the following:
Parental involvement in their children's schooling is likely to increase.
Parental knowledge of their children's academic skills and limitations may be more accurate because of this.
Teachers may have more personal contact with parents.
By better understanding what their kids are learning, parents can help them do so.
Wrapping Up
If you go through the above blog, you can clearly understand the nuances associated with online learning very easily. Undoubtedly, it has brought a change in society both in hierarchy and mindset. But yes, there are several pros of online learning, and more importantly, these pros outweigh its cons.
Apart from that if you want to know about Online Speed ​​Reading Tests then visit our Education category.
Author Bio
Rose Haughes teaches English at Birmingham University, besides serving as an academic counsellor for several years. She was expert writer in Argumentative Essay Help association with MyAssignmenthelp.com has been a productive affair so far. Her passions include travelling, photography, hiking, and golfing.